Gigabit infrastructure – network cabling, is a requirement for a fast and reliable business network.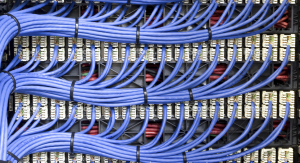 In today's business environment, requirements from VoIP, streaming video and other business-critical applications continue to increase.  Therefore, strong bandwidth capabilities and robust network speeds are more vital than ever for a business to efficiently operate. True Gigabit network speeds are no longer a luxury; they're a necessity. In order to achieve this, businesses require increased bandwidth from the carrier.  Updated low voltage network cabling, switches and other network infrastructure is also important.
What is a typical reaction to slowed internet speeds?
When businesses begin to feel lag and slowdowns due to increasing Local Area Network (LAN) demands, a typical reaction is to contact the ISP or carrier to increase bandwidth.  This is sometimes done without considering the effects on aging LAN infrastructure.  Issues likely happen if infrastructure is not maintained, properly configured, or up to specifications when an ISP increases bandwidth or bit rate.  Your company may not always see the immediate effects on the data side, but it will be apparent if the business uses VoIP or video communication applications.
The role of IT staff in maintaining gigabit infrastructure and network cabling.
Oftentimes, companies are looking for IT network engineers to perform miracles with a very limited budget and tight deadlines.  There are sometimes project shortcuts.  That said, there are exceptions.  When companies implement high Gigabit networks, all network elements have to be able to handle the throughput. If this is not done, congestion points and increased buffering inevitably occur. This means infrastructure issues occur that impact traffic patterns and the predictability with which packets are delivered. When network traffic becomes busy, real-time communications systems suffer and it becomes very difficult to meet user experience requirements.
In order to get the maximum benefit of a move to Gigabit networking – and ensure high quality communications – organizations need to commit to it. That means investing in Gigabit Switches, Gigabyte Ethernet (GbE) ports, Gigabit VoIP phones and new wiring throughout the workspace. Upgrading old low voltage cabling to newer Cat5e, Cat6 or Cat6e standards – which can handle Gigabit speeds, becomes imperative. While the investment may be somewhat significant in the short term, it's imperative to implement strong network architecture from the start to eliminate issues that can effect business critical applications and daily workflow.
For questions shoot us an email at support@teomasystems.com or submit your inquiry here.