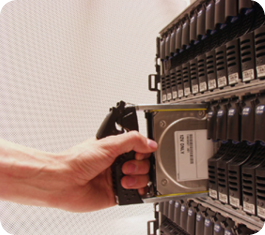 Organizations of all sizes are faced with growing volumes of data that must be stored, backed up and secured. However, many organizations lack a flexible and scalable storage environment that is capable of meeting these demands.
Teoma Systems can assess your environment and help you plan, architect and implement the right storage solution for your organization's needs. Our expertise spans a wide range of storage solutions, including network-attached storage (NAS) and storage-area network (SAN) technologies that can eliminate storage "silos" and improve the flow of data throughout your organization. We can also help you improve your backup and recovery operations and ensure that your vital data is protected in case of disaster.
Our capabilities include:
Storage Infrastructure Design and Architecture
Backup, Recovery and Archival
Data Replication for Disaster Recovery
Storage Virtualization
Encryption and Security
Storage Management
We help our clients reduce the cost and complexity of their computing infrastructure, freeing up financial resources and personnel for more strategic initiatives. For example, we can help you utilize storage virtualization to consolidate storage devices and create a flexible pool of capacity that responds to changing workload requirements. These solutions, along with the latest storage management tools, decrease the administrative overhead of your storage environment, enabling you to reduce costs and risks.