Xcellis Scale-out NAS
Unified Unstructured Data at Scale
In this Xcellis Scale-out NAS product spotlight, "Dealing with the Polarization of Unstructured Data," analyst George Crump of Storage Switzerland takes a look at the industry's first storage solution to comprehensively address the needs of high-value data environments.
What is Xcellis Scale-out NAS?
Xcellis® Scale-out NAS is the industry's first storage solution to comprehensively address the needs of high-value data environments, where an organization's revenue and products are all built around data. The latest evolution of Quantum's market-leading, scale-out shared workflow storage platform, Xcellis Scale-out NAS is engineered to deliver the management capabilities and robust features of enterprise NAS with the cost-effective scaling organizations demand to address modern data growth. Contact an Xcellis Scale-out NAS expert now.
Cost-Effective Scaling of Performance and Capacity
Lifecycle, Location, and Cost Management
Advanced Features and Flexible Management
Artificial Intelligence with Xcellis
Clusters can scale capacity and performance together or independently to reach hundreds of petabytes and terabytes-per-second performance. Single client connections (SMB, NFS, or high-performance client) can achieve more than 3x the performance of competitive enterprise NAS offerings.
Xcellis Scale-out NAS leverages Quantum's 15 years of data management experience built into StorNext®. Xcellis data management provides automatic tiering between SSD, disk, tape, object storage, and public cloud. Copies can be created for content distribution, data protection, and disaster recovery.
With a simple installation and setup, in as little as 30 minutes, Xcellis Scale-out NAS provides a modern administrative GUI with in-depth monitoring, alerting and management functions, plus rapid scanning and search. Xcellis Scale-out NAS is designed to integrate with the highest performance Ethernet networks through SMB and NFS interfaces.
Xcellis Scale-out NAS makes it possible to create more value with new data―or remonetize existing data―using the Xcellis artificial intelligence (AI) data enhancement capabilities. Xcellis is the only scale-out NAS platform with integrated AI for on-premise data to enable active interrogation of data―such as events, objects or faces, words and sentiments―along multiple axes to automatically generate new, custom metadata. This effectively opens new possibilities for queries, searches, and analyses.
Feature
Description
Workflow Director Nodes
Dual rack servers
Redundant power supplies
Dual six-core high-performance Intel E5 v3 CPUs
Shared Storage Arrays
Quantum QXS™-3 and QXS-4
Dual redundant high-performance controllers
Available in 2U12, 2U24, and 4U56 options
Storage Support
Supports Quantum QXS storage for combined metadata and data options; Quantum or 3rd-party storage for user data*
NAS Connectivity License
Enables connection of SMB and NFS clients directly to Xcellis; does not require per-client licensing
Optional StorNext LAN Gateway License
Enables connection of StorNext LAN clients directly to Xcellis; does not require per-client licensing
Included StorNext Software
StorNext High Availability License Option, 10 SAN clients available to the user for any OS type, 1 embedded SAN client for each Xcellis Workflow Director node, and a Distributed Data Mover license (for the secondary node)
Onboard Ethernet
Quad 1 GbE for service, management, and metadata networks
Additional Ethernet
Up to two additional NICs for StorNext LAN, NAS, public cloud, and Lattus™ or other object storage connections
Choose from quad 1 GbE, dual 10 GbE, or dual 40 GbE
10 GbE in Optical, Twinax, or 10GBase-T
Optional InfiniBand
Up to two additional NICs for dual QSFP FDR Infiniband connectivity
Fibre Channel
Quad 16 Gb Optical, Dual 16 Gb Optical, or Quad 8 Gb Optical
Client Protocol Support
StorNext SAN, StorNext LAN, SMB 1 (CIFS), SMB 2, SMB 3, NFS v3, NFS v4 Active Directory, OpenLDAP, RESTful API
Client Support
Linux, Mac OS X, Windows, AIX
Cloud Storage
The FlexTier™ feature of StorNext Storage Manager provides support for customer-owned public cloud accounts in Amazon AWS including S3, S3 Infrequent Access, Glacier, GovCloud, and C2S; Microsoft Azure Locally Redundant Storage (LRS), Zone Redundant Storage (ZRS), Geographically Redundant Storage (GRS), Read-Access Geographically Redundant Storage (RA-GRS); or Google S3 Cloud services
Object Storage
Quantum Lattus low-latency, massively scalable object storage
Support for third-party object storage using StorNext Storage Manager
Tape Archive
StorNext AEL500, StorNext AEL6000 tape archive
Scalar i3/i6 tape libraries
3rd-party tape archive systems also supported
*3rd-party user data storage requires dedicated Quantum QXS metadata storage.
 
Xcellis Scale-out NAS Architecture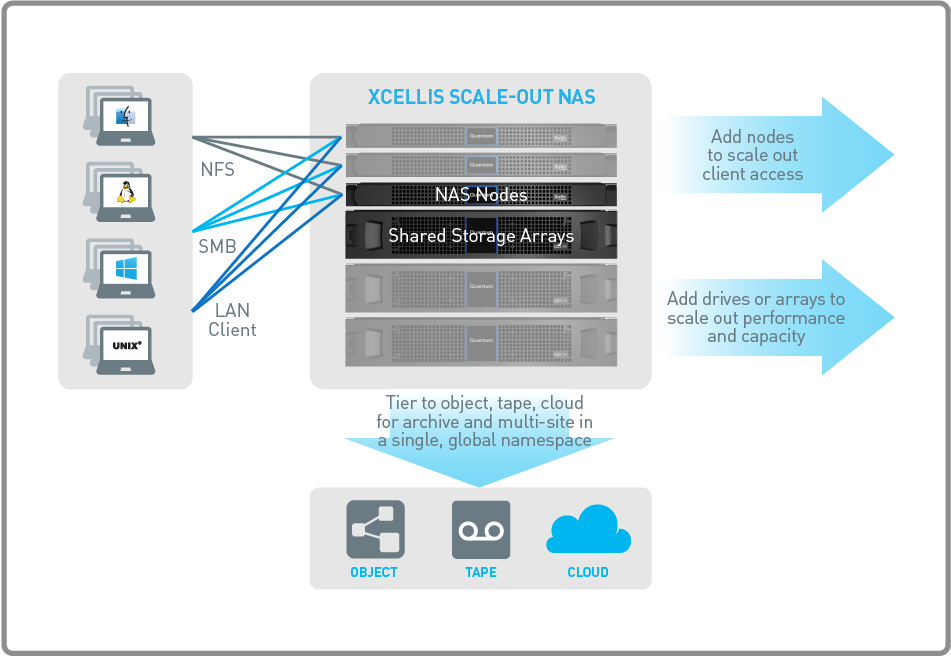 Flexible Configurations
There is a gap in the market between NAS systems designed for enterprise data management and HPC solutions designed for data-intensive workloads. Xcellis Scale-out NAS fills this gap with the features needed by enterprises and the performance required by HPC in a single solution. Xcellis uniquely delivers capacity with the economics of tape and the cloud, integrated AI for advanced data insights, and can even support traditional block storage demands within the same platform. scalability. It's exactly what we were looking for.
Molly Presley, Vice President, Global Marketing, Quantum
StorNext Connect - Install, Insight, and Management
Xcellis Scale-out NAS environments powered by StorNext are dynamic workspaces where multiple users interact with valuable data through a range of applications. StorNext is one of the most hands-off data management platforms available today. StorNext Connect delivers enhanced insight into system status plus single-screen manageability to provide even greater control and visibility to users' workspaces.
Install
With an intuitive and modern interface, StorNext Connect enables simplified and straightforward installation and configuration of all Xcellis Scale-out NAS appliances in a matter of minutes.
Monitor
Provides current statistics along with historical and future trends for performance, throughput, and latency of all file systems at a high level plus a drill-down to individual components.
Manage
Makes it easier to set up and manage workflows by shortening the time it takes to deploy or upgrade a StorNext environment.
StorNext: Shared Parallel File System
StorNext Data Management System
The StorNext shared storage platform, which comes with every Xcellis appliance, is purpose-built for managing large, data-intensive workloads, with the ability to efficiently and cost-effectively scale as needed to satisfy demanding business requirements. Advanced data management capabilities empower customers to optimize capacity through policy-driven, automated storage tiering, thus reducing the need for costly primary storage. Files can be automatically and transparently moved from primary storage to tape, object storage or the cloud―all while optimizing performance and maintaining high availability.
Contact us for more information

Contact us today if you have questions about our products and services. A representative from

TEOMA SYSTEMS

will respond as soon as possible with answers to your questions.
Showcase Content © Quantum 2018. All rights reserved.
Showcase and Syndication technology powered by
Zift Solutions
, 2018. All rights reserved.
http://quantum.sharedvue.net/sharedvue/iframe?sviresizer=quantum.partnerco.net&svunpublished=true&svpage=products_stornext5scale&svlang=en