Ruckus Wi-Fi has three methods to deploy your wireless internet network.  Here are some highlights of each option:
1) Controller based Wi-Fi
First, a controller based Wi-Fi deployment method is ideal for large single location networks exceeding 25 wireless access points.  This deployment method utilizes a controller to centrally manage the network.  We typically recommend Ruckus's ZoneDirector to our clients.  Some features of a controller based deployment are:
Rogue AP detection and advanced Wi-Fi security features
Automatic traffic redirection
Sophisticated user access controls
Authentication support

2) Unleashed
Another deployment method is with Unleashed access points.  These are especially relevant for small to medium sized business deployments.  The wireless access points themselves act simultaneously as controllers and can be deployed and configured in a few minutes time.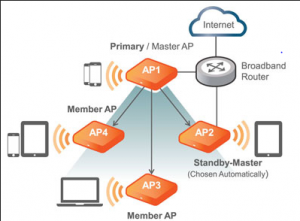 For example, here is the typical process for setting up Unleashed access points:
First, power on the access points.
Then , connect to the Unleashed access point open Service Set Identifier (SSID) or Domain Name System (DNS).
Finally, use the Unleashed online module to configure the master access point to act as the controller.
A secondary master AP is chosen automatically once the network is configured.  A single controller-less network supports up to 25 unleashed APs.  If the unleashed network grows to more than 25 APs, then the unleashed APs themselves can be programmed to function on either a controller based or cloud managed network.
3) Cloud Managed
Ruckus also offers a third option to manage access points through the cloud.
Subscription options include 1, 3, and 5 year options and include a large selection of compatible APs
Cloud deployment is also ideal for networks with multiple separate locations
Subscription includes AP management, reporting and analytics – also 24×7 phone/chat/web support
A cloud controlled Wi-Fi network is able to support an unlimited number of APs
Lastly, it is possible to manage and monitor network from Android or iOS device with the mobile app
Sources: