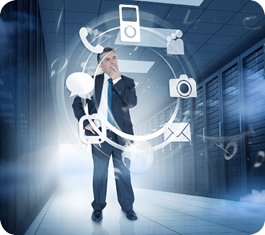 Teoma Systems has assembled a suite of best-of-breed solutions that address today's most pressing business requirements. Our solution suite builds upon our expertise in IP communications and network infrastructure, and extends to the core data center technologies that form the foundation for business today.
Our engineers are trained and certified in the latest technologies from the industry's leading vendors. We also have proven field experiencing deploying these solutions in organizations of all sizes and in a wide range of industries.
Teoma Systems can help you create an optimized technology environment that boosts productivity, enhances customer service, supports mobility and improves communication and collaboration throughout the extended enterprise.
IP Communications
Use the power of the Internet for your communications needs
Networking
Maximize the flow of information so you have access when, how, and where you need it
Servers / Virtualization
Optimize your computing needs with the right devices
Storage
Improve productivity by providing real time access to information
Security
Protect your information
Video Surveillance
Extend your existing network infrastructure to include video functionality
Cabling
Advance communications by design and facility infrastructure